La tournée américaine continue sur la côté Est avec une halte hier à Montclair dans le New Jersey.
Les salles sont toujours des petits theatres ce qui n'est pas pour faire redescendre l'ambiance bouillante de ces concerts américains!
Voici la setlist d'hier soir:
HaloNightrainGhost
Standing in the Sun
Back From Cali
Mr. Brownstone
Beggars & Hangers-OnNot for Me
Rocket Queen
Doctor Alibi
(Todd Kerns)
Out Ta Get Me
(Todd Kerns)
No More HeroesStarlightShots FiredGuitar Solo / Godfather Theme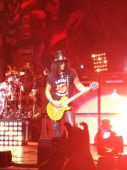 Anastasia
Sweet Child O' Mine
You're a LieSlitherFall to PiecesParadise City
1h50 de show classique; toujours l'alternance au rappel entre "By The Sword" et "Fall To Pieces".
Prochain concert ce soir à Huntington.
>
Galerie Photos Montclair
>
Commander Apocalyptic Love sur Amazon
>
Toutes les infos sur Apocalyptic Love
Nous vous rappellons que
Slash
passera le samedi
20 Octobre au Zénith de Paris
, ne cherchez pas plus d'infos pour le moment, elles seront sur le site à partir de lundi !
News lue 7054 fois.