Slash
a joué hier à guichets fermés à Oslo devant un public de 1750 fans !
Quelques changements dans la setlist avec le retour de
Halo
"et "
The Unholy
" mais un show complet de 2h.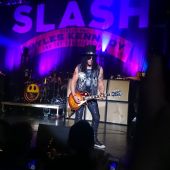 Setlist
You're A Lie
NightrainAvalonHalo
Back From CaliWicked Stone 30 Years To LifeDouble Talkin' JiveYou Could be MineDr Alibi (Todd Kerns on vocals)Welcome to The jungle (Todd Kerns on vocals)
Beneath The Savage Sun
The DissidentRocket Queen
The UnholyWorld On FireAnastasiaSweet Child o' MineSlitherParadise City
>
Plus de photos de Slash à Oslo
Niveau guitare et utilisation, c'est un peu perturbant sur cette tournée ! En effet, sur "
You Could be Mine
" par exemple, vous pourrez le voir jouer un soir avec une BC Rich puis un autre avec une Les paul Custom... puis quelques fois avec sa vermillion, puis une Les Paul Tobacco.
Slash
varie les plaisirs !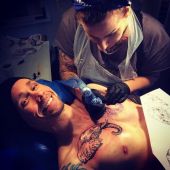 Myles
s'est fait tatouer une paire...d'éléphants sur le torse à Stockholm par
Emiliia Lee
de Catapult Tattoo, la tattoo artist qui avait déjà dessiné l'
Apocalyptic Lo
ve
sur le torse de
Slash
l'été dernier.
Tout comme
Slash
, il est très concerné par la cause anti-braconnage de l'ivoire dont traite la chanson "
Beneath The Savage Sun
" (
Voir le clip ici
).
Prochain concert au Rock Im Park le 4 Juin.
En attendant la sortie du DVD du Roxy 2014, vous pouvez déjà visionner la chanson "World On Fire" extraite du concert.
> Plus d'infos sur le DVD live au Roxy 25.09.2015

Commandez:
>
DVD
>
Blu Ray
News lue 15211 fois.