Hier
Slash
rejouait dans la ville de St Louis dans le Missouri; la même ville qui, 21 ans plus tôt avait tant fait couler de l'encre dans la presse avec cette émeute qui a fait les grandes lignes de l'histoire de Guns n' Roses. Et accessoirement l'agacement de
Slash
!
Hier c'était dans une petite salle de 1300 places le Pageant que ce déroulait le concert.
Voici la setlist
HaloNightrainGhost
Standing in the Sun
Back From Cali
My Michelle
Beggars & Hangers-OnNot for Me
Rocket Queen
Doctor Alibi (Todd Kerns)You're Crazy (Todd Kerns)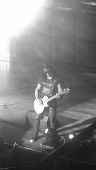 No More HeroesStarlightHard & Fast
Guitar Solo / Godfather Theme
Anastasia
Sweet Child O' Mine
You're a LieSlitherBy The Sword
Paradise City
Concert de quasi 2h. Prochain show show à Sturgis demain soir.
>
Galerie Photos St Louis
>
Commander Apocalyptic Love sur Amazon
>
Toutes les infos sur Apocalyptic Love
N'oubliez pas demain 10h, la vente générale des billets de concert pour le show de
Slash au Zénith de Paris le 20 Octobre prochain
!
Vous pouvez cependant encore acheter vos tickets sur la pré vente sur
ce lien
.
News lue 2587 fois.