3ème show canadien de la tournée "Apocalyptic Love" pour Slash hier à Calgary dans la salle Jubilee.
Voici la setlist du show: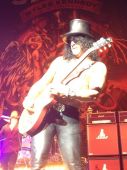 One Last Thrill
Nightrain
Ghost
Standing in the Sun
Back From Cali
Rocket Queen
Nothing to Say
Not for Me
Doctor Alibi (w/ Todd Kerns)
You're Crazy (w/ Todd Kerns)
Hard & Fast
Starlight
Halo
Mr. Brownstone
Godfather Theme / Anastasia
Sweet Child O' Mine
You're a Lie
Slither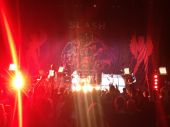 Communication Breakdown
Paradise City

On note la reprise de Led Zep "Communication Breakdown" au rappel. La dernière fois qu'ils l'ont joué c'était à Londres le 6 juin dernier. Le Canada a certainement les meilleures setlists de la tournée avec une rotation quotidienne des chansons!
Prochain show demain à Medecine Hat toujours au Canada.

> Galerie photo Calgary
> Commander Apocalyptic Love sur Amazon
> Toutes les infos sur Apocalyptic Love
> Application Facebook Slash Tour




D'autres part, Slash a composé le générique de la nouvelle émission de Russell Brand qui s'intitule "Brand X". C'est assez rock n' roll, si vous avez l'occasion de l'écouter (ou de regarder l'émission!)




News lue 3210 fois.