La tournée au Canada derrière lui,
Slash
reprend la route des USA avec ce concert donné à la House of Blues de Boston hier soir.
Le show comptait un invité de marque en la présence de
Lemmy
de MOTORHEAD qui est monté sur scène pour chanter "
Dr Alib
i".
Voic la setlist
Halo
Nightrain
GhostStanding in the SunBack From CaliMy Michelle
Beggars & Hangers-On
Not for MeRocket QueenDoctor Alibi (Avec Lemmy Kilmister)You're Crazy (Todd Kerns au chant)No More Heroes
Starlight
Shots FiredGuitar Solo / Godfather Theme
Anastasia
Sweet Child O' Mine
You're a LieSlither
By the Sword
Paradise City
Prochain concert ce soir à Montclair dans le New Jersey.
>
Galerie photos Boston
>
Commander Apocalyptic Love sur Amazon
>
Toutes les infos sur Apocalyptic Love
Slash
s'est rendu à la radio locale WAAFF Fm afin de répondre à quelques questions avant le show.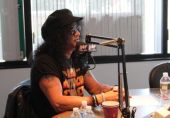 Interview video de Bravewords
Ce qu'il faut en retenir:
- Slash compose la musique pour le premier film qu'il produit avec Slasher Films (sa société de production de films d'horreur). Il n'a pas trop le temps car il est en tournée donc c'est difficile. Il ne dirige pas le film, il fait juste la musique.
- Le groupe qu'il a monté est génial, mais
Myles Kennedy ne VEUT PAS rejoindre VELVET REVOLVER
car il devrait quitter ALTER BRIDGE.
- Myles Kennedy n'a pas pris de vacances depuis Avril 2010
- Slash parle du problème de détachement de rétine de Todd sur la tournée 2010
- Le prochain album se fera avec les même mecs, Slash compile quelques idées en tournée
- La tournée s'arrête en décembre 2012 et reprendra en Février 2013; Myles sera avec ALTER BRIDGE en Ja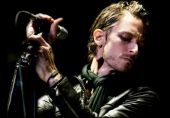 nvier 2013.
- Slash trouve les albums instrumentaaux ennuyeux !
Dans une interview récente donnée à
Aquarian magazine
,
Slash
affirme qu'il voulait vraiment bosser avec le chanteur du groupe
OURS
,
Jimmy Gnecco
pour
VELVET REVOLVER
mais que des conflits d'emploi du temps ont empêchés de concrétiser les choses.
Slash
rechercherait il un clone de
Scott WEILAND
?

Jimmy Gnecco
avait jammé avec VELVET REVOLVER l'année dernière à
New York pour un concert caritatif
.
Enfin, dernière nouvelle et pas des moindre !
Slash jouera au zénith de Paris le 20 Octobre 2012
!
2 catégories:
- Fosse Cat2: 42,80 €
- Gradins non numéroté Cat1: 47,20 €
Plus d'infos très bientôt !
News lue 7279 fois.