Le clip de
Bernard Fowler
"
My Friend Sin
" est enfin sorti !
Le choriste des Rolling Stones actuellement à Cuba vient en fait de sortir son clip de "
My Friend Sin
" chanson extraite de l'album "
The Bura
" paru en mai 2015 (enregistré en 2013).
Slash
y joue 2 chansons.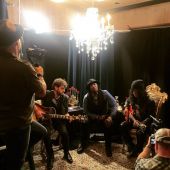 Le clip a été
tourné mi Janvier 2016
au Steackhouse Studios de Los Angeles.
Autre news, la semaine dernière,
Slash
a pris le termps de signer une guitare pour le concert de charité
From Classic To Rock
qui aura lieu le 26 mars 2016 . Cette guitare sera venu aux enchères afin de récolter des fonds pour assurer les besoins financiers de programmes éducatifs pour les enfants.
Photos de la guitare signée par
Slash
ci-dessous: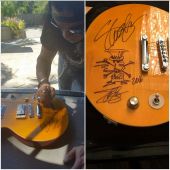 News lue 5991 fois.