Slash a donné un concert à Chicago en tête d'affiche hier soir.
C'est Fozzy, groupe du catcheur Chris Jericho qui a ouvert le bal.
La setlist change un peu avec à la place de "Ghost", le retour de "Standing In the Sun". La famille proche de Meegan, la compagne de Slash, était présente en coulisses.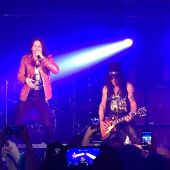 Setlist
You're A Lie
NightrainAvalonStanding In The Sun
Back From CaliWicked Stone Automatic overdriveDouble Talkin JiveYou Could be MineDr Alibi (Todd Kerns)Welcome To The Jungle (Todd Kerns)
Beneath The Savage Sun
The DissidentRocket Queen
Bent To FlyWorld On FireAnastasiaSweet Child o' MineSlitherParadise City
>
Plus de photos du concert de Slash à Chicago
Prochain concert de
Slash
ce soir à Sioux City.
La collaboration entre
Slash
et Bernard
Fowler
, le choriste des
Rolling Stones
est enfin sorti !
Slash
joue sur le titre "
My Friend Sin
" et "
Second Place
"qu'il a enregistré en Aout 2013 (
cf. news du 15/08/2013
)
En dehors de la participation de
Slash
, l'album est vraiment bon ! Un mélange de Rock, Blues, soul, reggae... la voix de
Bernard Fowler
rappelle celle de
Rod Jackson
par moment.
Ce n'est pas pour rien qu'il est backing vocals des
Stones
!
1.Shake It2.See You Again3.Letter4.My Friend Sin5.Second Place6.Drivin Home To You7.Can't You Hear Me Knocking Feat. Chuck D8.Dragon Attack9.Helter Skelter10.Will You Miss Me11. Bonus: The letter (Dub)12. Bonus: The Letter (Accapella)
>
Commander l'album sur Amazon