Toutes les infos et
dates de tournée
Concert précédent || Concert suivant
Date: Samedi 17 Novembre 2012
Ville - Pays: Buenos Aires - Argentine
Salle: Estadio Malvinas Argentinas
Setlist:
Halo
Nightrain
Ghost
Standing In The Sun
Back From Cali
Just Like Anything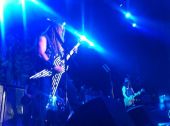 Rocket Queen
Apocalyptic Love
No More Heroes
Dr Alibi (Todd Kerns)
You're Crazy (Todd Kerns)
Nothing To Say
Not For Me
Starlight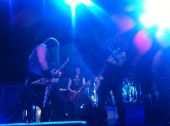 Blues Jam / Anastasia
You're A Lie
Sweet Child O' Mine
Slither
Welcome To The Jungle
Paradise City
Affluence: 8950 personnes
Durée: 120 minutes
Première(s) partie(s) : Black Label Society, Eruca Sativa
Cliquez ici pour accéder à la galerie photos du concert de Slash à Buenos Aires, Argentine
Infos diverses sur ce concert:
Zakk Wylde est venu jammer sur la Blues Jam avec Slash.

Slash: Big show at El Teatro Vorterix in Buenos Aires, w/Zakk Wylde. It's going to be insane! iiii]; D'
The venue tomorrow is actually, Estadio Malvinas. El Teatro is Sun. Both shows are going to kick serious ass regardless. iiii]; )'
Fuuuuuuuuuck!!!!! #Buenos Aires!!!! iiii]; )'
& we're doing another 1 tomorrow!! iiii]; )'
Many thanks to Zakk for jamming w/us tonight. It was an honor & a privilege. iiii]; )'
Brent Fitz: It's 2am here in Buenos Aires and Frank and I are on our third cup of VERY strong coffee! F'n coffee freaks! — avec Frank Sidoris et Pao Glitter.
Frank Sidoris: Caught The Darkness and Lady Gaga gig in Buenos Aires. Justin and Dan Hawkins have a wealth of Les Pauls, Marshalls, and killer tone. Quite a spectacle!

Todd Kerns: Buenos Aires with Brother Zakk and BLS!!! Gonna be mental!
Jammed with Zakk Wylde tonight. Awesome!

Myles Kennedy: Tonight we are playing with Black Label Society in Buenos Aires. Should be intense.
Zakk Wylde jammed with us this evening in Buenos Aires. That guy can punish a fretboard. Black Label Society was awesome as well.