Toutes les infos et
dates de tournée
Concert précédent || Concert suivant
Date: Lundi 25 Juin 2012
Ville - Pays: Byblos - Liban
Salle: Byblos International Festival
Setlist:
One Last Thrill
Nightrain
Ghost
Standing In The Sun
Back From Cali
Rocket Queen
Nothing To Say
Apocalyptic Love
Dr Alibi
Out Ta Get Me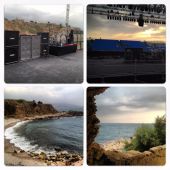 Shots Fired
Starlight
Halo
Mr Brownstone
Godfather Theme / Anasthasia
Sweet Child O' Mine
You're A Lie
Slither
By The Sword
Paradise City
Affluence: 3000 personnes
Durée: 105 minutes
Première(s) partie(s) :
Cliquez ici pour accéder à la galerie photos du concert de Slash à Byblos, Liban
Infos diverses sur ce concert:

Slash: The Byblos Fest venue is on the ocean. Fn' gorgeous location. The crowd was intense, hanging on every note. Awesome night. iiii]; )'

1er concert de Slash au Liban. Le godfather Theme a été (re)joué pour la première fois en Europe sur cette partie de la tournée.