Toutes les infos et
dates de tournée
Concert précédent || Concert suivant
Date: Vendredi 28 Septembre 2012
Ville - Pays: Chicago, IL - Etats-Unis
Salle: Riviera Theater
Setlist:
Halo
Night Train
Ghost
Standing in the Sun
Back From Cali
Been There Lately
Civil War
Rocket Queen
No More Heroes
Carolina
Dr Alibi (Todd Kerns)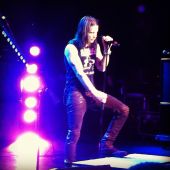 Out Ta Get Me (Todd Kerns)
Not for Me
Starlight
Guitar Solo / Anastasia
You're a Lie
Sweet Child O' Mine
Slither
Fall to Pieces
Paradise City
Affluence: 2300 personnes
Durée: 120 minutes
Première(s) partie(s) : Foxy Shazam, Loverhammers
Cliquez ici pour accéder à la galerie photos du concert de Slash à Chicago, IL, Etats-Unis
Infos diverses sur ce concert:
Slash:
Going to be a kick ass show tonight at the Riviera. Love this room. & the Chi-Town faithful. RnFn'R!
iiii]; )'
Killer turnout in Chicago tonight! It was looking pretty light until the last minute.
Great Chi-Town crowd. Had a kick ass time!
iiii]; )'
Todd Kerns: Chicago tonight! Love this town!