Toutes les infos et
dates de tournée
Concert précédent || Concert suivant
Date: Mardi 25 Septembre 2012
Ville - Pays: Indianapolis, IN - Etats-Unis
Salle: Egyptian Room
Setlist:
Halo
Night Train
Ghost
Standing in the Sun
Back From Cali
Mean Bone
Civil War
Rocket Queen
Carolina
No More Heroes
Dr Alibi (Todd Kerns)
Out Ta Get Me (Todd Kerns)
Not for Me
Starlight
Guitar Solo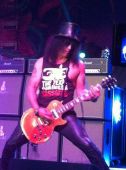 Anastasia
You're a Lie
Sweet Child O' Mine
Slither
Fall to Pieces
Paradise City
Affluence: 2000 personnes
Durée: 120 minutes
Première(s) partie(s) : Foxy Shazam, Rauchenstein
Cliquez ici pour accéder à la galerie photos du concert de Slash à Indianapolis, IN, Etats-Unis
Infos diverses sur ce concert:
Slash: Fantastic couple days in Indy. Great fn' crowd tonight! Good to see all my Indy compatriots there as well. Good times! iiii]; )'
Cheers to my friend Tanya of Kiss, Kiss, Bang, Bang Hair Salon, who took us around town yesterday & let me drive. iiii]; )'
Having a moment to reflect after eating at Red Habanero a few minutes ago. iiii]; o
Having a blast tripping around Indianapolis suburbs w/a friend that lives here. Just left Ben & Ari's Arcade. On to darker fare. iiii]; )'
Brent Fitz: With Conspirators and friends from other another band! • à Ruth's Chris Steakhouse Downtown Indy.
Todd: Just back from dinner with Debbie Harry and she's STILL beautiful!!!