Toutes les infos et
dates de tournée
Concert précédent || Concert suivant
Date: Samedi 04 Mai 2013
Ville - Pays: Manille - Philippines
Salle: Smart Araneta Coliseum
Setlist:
Halo
MeanBone
Nightrain
Ghost
Standing In The Sun
Mr Brownstone
Back From Cali
Serial Killer
Nothing To say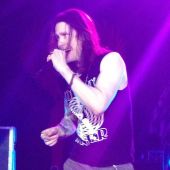 Gotten
Bad Rain
Dr Alibi (Todd Kerns)
You're Crazy (Todd Kerns)
Rocket Queen
No More Heroes
Starlight
Anastasia
You're A Lie
Sweet Child O' Mine
Slither

Welcome to The Jungle (Todd Kerns)
Paradise City
Affluence: 12500 personnes
Durée: 120 minutes
Première(s) partie(s) : General luna
Cliquez ici pour accéder à la galerie photos du concert de Slash à Manille, Philippines
Infos diverses sur ce concert:
Slash: Hello Cleveland! iiii]; )'
Finally arrived in Manilla! That's quite a jaunt. Can't wait to play already! iiii]; p
Mabuhay! Going to be a great gig tonight. Can't wait! iiii]; )'
Woohoo! Great audience in Manila! Great vibe. I'd love to come back. It was way too quick. Put it on the list for next year! iiii]; )'
I honestly think I just met the world's nicest person, @arnelpiineda, singer for Journey. Amazingly humble dude. iiii]; )'
@Arnelpineda I don't know how the extra i got in there. iiii]; p
We're using a really cool piece of music from "Nothing Left to Fear" for the intro to the show. Sounds awesome! iiii]; )'
Great band, @generalluna2010 opened for us tonight. U have to check them out. They kick all kinds of ass. I'm dead serious. iiii]; )'
Off to Shanghai tomorrow. Goodnight Twittephiles! iiii]; )'
Todd Kerns: May the 4th be with you. Tonight-the thrilla in Manila! Day 1 Asian tour 2013!
Myles Kennedy: First time playing in Manila this evening....crowd was amazing!
Frank Sidoris: Perfect way to start this run in Asia. Manila was fantastic as always. Til next time :)
Brent Fitz: Hittin' the stage in a few minutes! No jet lag for this Conspirator! Let's do this!!!!