Toutes les infos et
dates de tournée
Concert précédent || Concert suivant
Date: Mardi 27 Novembre 2012
Ville - Pays: Mexico City - Mexique
Salle: Palacio de los deportes
Setlist:
Halo
Nightrain
Ghost
Standing In The Sun
Back From Cali
Just Like Anything
Mr Brownstone
Rocket Queen
Bad Rain
Not For Me
Dr Alibi (Todd Kerns)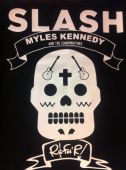 No More Heroes
Apocalyptic Love
Starlight
Godfather / Anastasia
You're A Lie
Sweet Child O' Mine
Slither
Welcome to The Jungle
Paradise City
Affluence: 10 000 personnes
Durée: 120 minutes
Première(s) partie(s) : Resorte
Cliquez ici pour accéder à la galerie photos du concert de Slash à Mexico City, Mexique
Infos diverses sur ce concert:
C'est l'anniversaire de Myles Kennedy ! A l'occasion, il s'est défoulé sur une Pinata !

Slash: Happy Birthday Myles! Who, happens to share a birthday w/Jimi Hendrix. Pretty cool. iiii; )'
Todd Kerns: Happy Birthday to my brutha from another Mutha, Myles Kennedy! Birthday party with thousands of our closest friends in Mexico City tonight!!!!
Brent Fitz: Wishing Happy Birthday to Myles Kennedy today!
Gonna be a great gig tonight in Mexico City! See you all in a few hours!!
Slash's guitar tech: Happy Birthday to Myles Kennedy and Jimi Hendrix!