Toutes les infos et
dates de tournée
Concert précédent || Concert suivant
Date: Vendredi 02 Novembre 2012
Ville - Pays: Rio De Janeiro - Brésil
Salle: Fundicao Progresso
Setlist:
Halo
Nightrain
Ghost
Standing In The Sun
Back From Cali
Been There Lately
My Michelle
Rocket Queen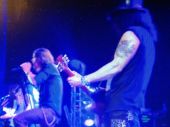 Bad Rain
Not For Me
Dr Alibi (Todd Kerns)
You're Crazy (Todd Kerns)
No More Heroes
Starlight
Blues Jam / Anastasia
You're A Lie
Sweet Child O' Mine
Slither

Welcome To The Jungle
Paradise City
Affluence: 4000 personnes
Durée: 120 minutes
Première(s) partie(s) : Porn Queen
Cliquez ici pour accéder à la galerie photos du concert de Slash à Rio De Janeiro, Brésil
Infos diverses sur ce concert:

Todd Kerns: "Rio blew my mind! Totally over the top! So happy to be in South America.
On another note please help the Sandy survivors-http://search.itunes.apple.com/WebObjects/MZContentLink.woa/wa/link?path=redcross
Outside US-
www.redcross.org"
1st show of South American tour in less than an hour! Rio de Janeiro, Brazil!

Slash: Woo Hoo!! THAT was fucking awesome! Crowd was so loud, half the time we couldn't hear ourselves. & we are LOUD. Obrigado Rio!
iiii]; )''
Myles Kennedy: To everyone who made it to tonight's show in Rio… Obrigado! So good to be back. You are amazing.