Alors que dans une précédente news on vous évoquait tout juste le fait que les
Conspirators
(
Todd, Brent
et
Frank
) puissent jouer ensemble de manière plus régulière, le guitariste
Frank Sidoris
a donné son premier concert avec sa formation
ROYAL ELECTRIC
.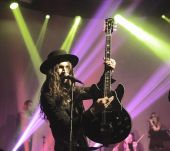 Il s'agit avant tout d'un jam band composé de zicos de Las Vegas qui font principalement des reprises Rock / funk.
La formation a donné son premier concert à Las Vegas au Palms le 22 Septembre dernier.
La setlist fût composée de classiques tels que "Fame" (
Bowie
), "Last Child" (
Aerosmith
), "Band On The Run" (
Wings
), "I want You" (
Beatles
) et "Always On The Run" (
Lenny Kravitz
) avec
Brent Fitz
et
Todd Kerns
en guest.
EDIT:
Setlist complète
Ball of ConfusionSuper BadGive it To Me babyLast ChildSing A Simple SongFamePapa's got a brand new bagAlways On the RunI Want YouI can't get next to youMary JaneBand On the RunI'm a manKick out the jamsDreams777-9311The JamShining StarShake Your Body
De son côté le bassiste
Todd Kerns
a donné un concert le lendemain au Vamp'd de Las Vegas avec sa formation
Todd Dammit & The Anti Stars
.
Todd
passe en revue sa carrière en chansons à travers des performances de son propre catalogue (
The devil in Me, Nothin personal, Ah leah, Indian Summer, Arianna Incomplete, It's not you...
) et des reprises dont une des
Guns
(
Jungle
).
Le groupe est composé de :
Doc Ellis: Guitare

Michael Elersic: basse
Corky Gainsford: drums