Slash
donnait un concert hier en tête d'affiche dans le Connecticut avec les Conspirators!
Toutes les infos ci-dessous.
Slash arbore un joli tshirt avec marqué "Vagina" dessus. Grande classe.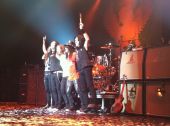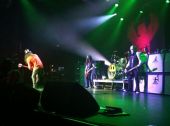 Setlist (TBC)
You're a lieNightrainHaloStanding In the SunBack From CaliStone BlindYou could be mineDr AlibiOut to get meNot for me30 years to lifeRocket QueenNo More HeroesStarlightWorld on FireAnastasiaBy the swordSweet child o'mineSlitherParadise City
>
Plus de photos du concert de Slash à Mashantucket
(
Merci à Slash USA pour les photos
)
Prochain concert ce soir à Bristow dans l'Etat de Virginie avec
AEROSMITH
.
La station de radio Planet Rock UK a uploadé des videos de
Slash & Myles
jouant quelques chansons unplugged
>
Bent To Fly
>
Starlight
Comme vous savez peut être si vous êtes un peu chineur, fouineur sur la toile vous avez surement vu que l'album "
World On Fire
" avait fuité... forcément lorsque l'Australie a une exclusivité de diffusion de l'album en entier, vous pensez bien qu'en 2014, avec les réseaux sociaux, les exclusivités ne restent pas longtemps "exclusives"...
La chaine de magasins JB HI FI (équivalent de nos FNAC) a donc diffusé l'album via son application donc l'album s'est retrouvé sur internet quelques heures après.
Pour nous, petits frenchies, il ne reste plus beaucoup de temps à attendre, si vous êtes un peu old school comme nous et que vous aimez respirer l'odeur des cds et entendre le crépitement du vinyle sur votre platine, vous pouvez acheter le cd sur Amazon !
Acheter un cd en 2014 ? non ce n'est pas un acte de has been !
>
Toutes les infos sur World On Fire
Pré-commander "
World On Fire
" sur Amazon, il sort le 15 Septembre:
>
Format CD
>
Format vinyle