Slash
a donné un concert de charité hier au Ace Theater en special guest pour la americana music association et la Blues Foundation.
Il a joué avec
Tash Neal
et son camarade
Jimmy Vivino
.
Setlist des chansons avec Slash:
Stepping Out
(version Clapton) avec
Marc Maron, Slash
Mind to give up living
(B.B King)
Joe Louis WAlker, Jimmy Vivino, Slash
Goin Down
(Freddie King)
Tash Neil, Slash, Tal Wilkenfeld
Autre sujet, c'était un secret de polichinelle mais
Slash
a annoncé officiellement des dates dans le cadre du "
Living The Dream
" world tour au Japon et en Asutralie / Nouvelle Zélande.
Les dates ci-dessous:
15/01/2019 - Osaka, Namba HATCH, Japon
17/01/2019 - Tokyo, Shinkiba STUDIO COAST, Japon
25/01/2019 - Tauranga, Baypark Arena, Nouvelle Zélande
26/01/2019 - Auckland, Spark Arena, Nouvelle Zélande
28/01/2019 - Sydney, Qudos Bank Arena, Australie
30/01/2019 - Brisbane, Brisbane Convention Exhibition Centre, Australie
01/02/2019 - Melbourne, Margaret Court Arena, Australie
03/02/2019 - Perth, RAC Arena, Australie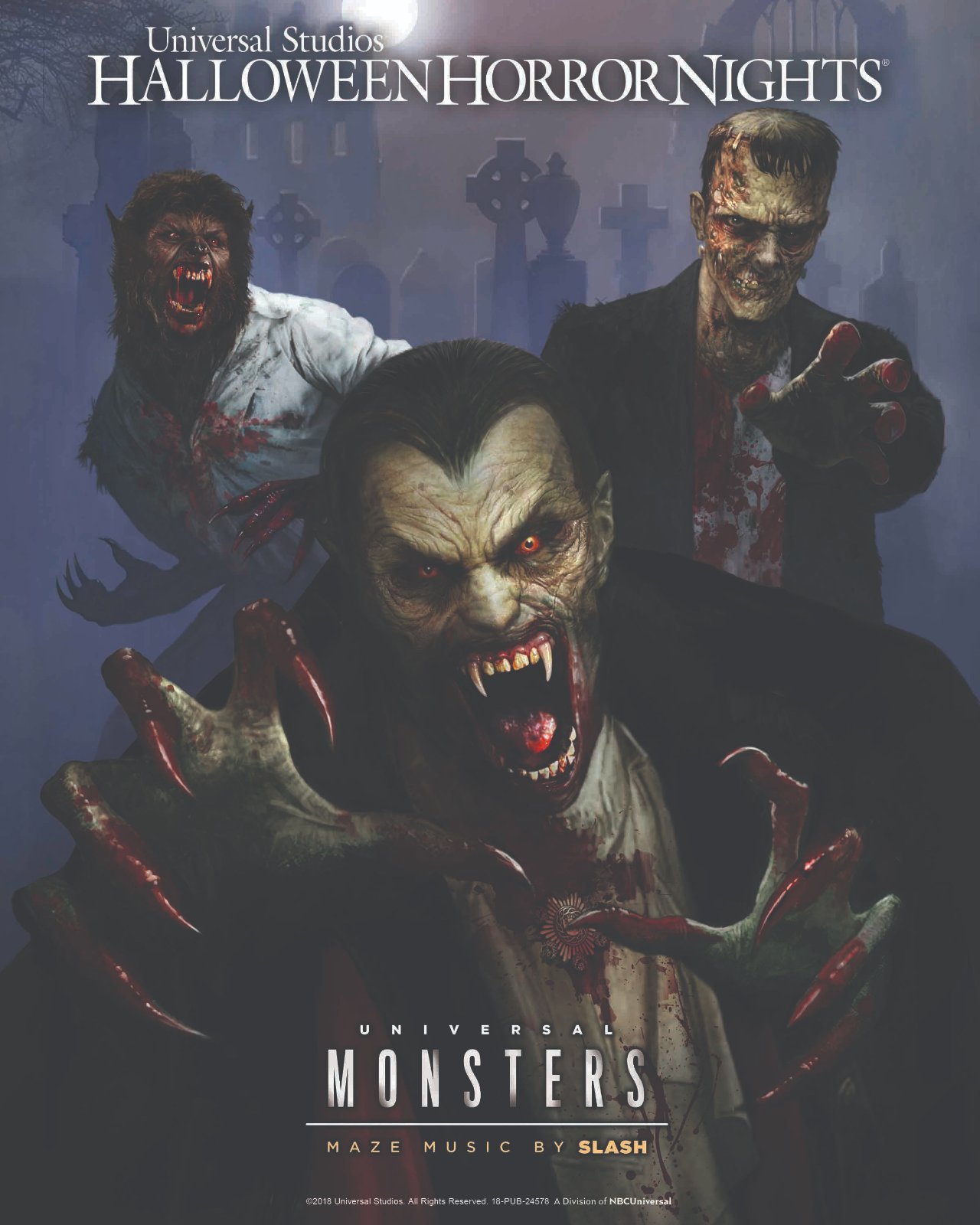 Enfin,
Slash
a mis à disposition les chansons composées pour Universal Studios Hollywood pour les attractions d'Halloween sur Sptofy et autres plateformes de streaming.
Attention, il y a quelques plans de guitare intéressants mais il ne s'agit en aucun cas de quelque chose de Rock n' roll comme GnR ou SMKC; il s'agit là vraiment de la musique diffusée lorsque vous êtes dans l'attraction aux Studio Universal !
Malheureusement, pour le moment pas de sortie en "physique" de prévue. Uniquement dispo en streaming.
Voici la tracklist et la description

We Belong Dead
Inspiré par Frankenstein notament le final du film "The Bride of Frankenstein", cette chanson a un theme gothique avec une touche contemporaine avec de l'EDM/Dubstep.
The Danse of the Dead
Inspiré par "Danse Macabre," le mouvement d'art qui célébrait "the universality of death" at a influencé la fameuse scène de bal masqué dans The Phantom of the Opera.
The Final Scare
Plus axé guitare avec une touche old shcool punk avec des sons electro.
Universal Monsters Rising
Les solos de guitare de SLASH mélangés à des bruits d'église, de harpe, violons staccato pour réveiller les morts.
The Collection Room/Dracula's Lair
Composé pour accompagner The Mummy et Dracula du labyrinthe, cette chanson comprend une influence de l'est de l'Europe.
Monsters, Maniacs and Madmen
(Universal Monsters Maze Medley)
Complilation qui permet de vous accompagner tout le long du labirynthe, vous y trouverez du piano, de la guitare, des violons, de l'orgue et des voix d'opera qui permettent de créer des ambiances angoissantes !
Bonus track:
Sweet Licks
(tiré de "Clowns 3D - 2014)
>
Lien Spotify
Si vous avez besoin d'une musique d'ambiance pour Halloween, c'est parfait !
--------------------------
Planning de Slash
:
19 octobre: Slash
sera un des very special guests lors du concert de charité "
Across The great Divide
" qui aura lieu au Ace Theater à Los Angeles le 19 octobre. Il jouera avec son camarade
Jimmy Vivino
.
30 octobre: Slash
va faire un pop up screening à Los Angeles, comme il aime en faire souvent avec le film d'horreur "Overlord". Quelques fans sont conviés.


03 Novembre - 08 Décembre:
Tournée Asie / Afrique du Sud / Hawai avec
Guns n' Roses
2019
Janvier 2019
: Asie / Australie avec SMKC
Février / mars 2019
: Europe avec SMKC
Mars / Avril 2019:
off, il retourne avec Guns pour voir s'ils peuvent enregistrer de nouvelles chansons.
Myles
retourne avec Alter Bridge pour commencer le processus d'enregistrement de leur nouvel album.
Mai 2019
: Amérique du Sud avec SMKC
Juin 2019
: retour en Europe pour les festivals avec SMKC (qui a dit Hellfest ?)
Juillet / Aout 2019
: tournée nord américaine + tournée au Canada avec SMKC (une pensée pour nos cousins canadiens !!!)
En plus de tout ça, il bosse sur 4 films d'horreur en même temps + un nouveau flipper
Guns n' Roses
avec la marque Jersey Jack.
>
Tous les détails sur "Living The Dream"
>
Commandez Living The Dream sur Amazon
N'oubliez pas de prendre vos billets pour les concerts en France, les tickets partent vite !
Ils vont afficher complet dans très peu de temps !
>
Achetez vos billets pour Paris
>
Event Facebook Slash au Zenith de Paris
>
Achetez vos billets pour Toulouse
>
Event Facebook Slash au Zenith de Toulouse