Le rôle de Slash dans le jeu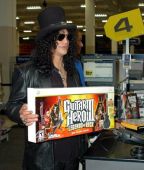 Slash a été approché en 2007 et fût la première star du Rock présent dans la saga Guitar Hero.
Il est resté un éternel adolescent et adore les jeux vidéos.
Il a d'ailleurs plusieurs bornes d'arcade chez lui.

C'est donc sans mal qu'il a accepté de collaboré avec Activision sur le développement de Guitar Hero III: legends of Rock, qui plus est un jeu axé autour de la guitare, ce qui colla parfaitement à l'image de Slash.

La Modélisation
Slash étant en soi quasiment un personnage reconnsaissable avec son chapeau, il ne fût guère difficile d'adapter ses traits en jeu video.
Arboré d'un habit truffé de capteurs, il a passé pas mal de temps à mimer sa façon de jouer afin que tous ses mouvements caractéristiques soit parfaitement reproduits dans le jeu.
Regardez la vidéo du makin off ci-dessous:
Interview video de Slash en français: toutes les explications
Enregistrement et bande son de Slash
Vous pouvez l'écouter ici
Toute les parties sont enregistrées sous forme de questions / réponses et la plupart sont des improvisations.
Slash a travaillé sur une piste principale qui lui a servi de repère et il a brodé autour.
Il resté seulement une après midi en studio afin de capturer tous solos.

Il s'est chargé aussi des musiques du jeu (intro et autres) en s'aidant de visuels du jeu ce qui fût pour lui un processus totalement différent de l'écriture normal d'un morceau.
L'autre Guest: Tom Morello !
On en oublierait presque le guitariste de RAGE AGAINST THE MACHINE pourtant lui aussi, modélisé pour l'occasion.
Sur le même principe que celui de Slash, Morello a enregistré des parties de guitares spécialement pour le jeu.
Liste des chansons (* = enregistrements originaux)

Niveau 1: Commence à partir de rien

Foghat – Slow Ride
Poison – Talk Dirty to Me
Pat Benatar – Hit Me With Your Best Shot
Social Distortion – Story of My Life
Kiss – Rock 'n' Roll All Nite (rappel)
Beastie Boys – Sabotage* (rappel coop)

Niveau 2: Ton premier concert


Mountain – Mississippi Queen
Alice Cooper – School's Out
Cream – Sunshine of Your Love
Heart – Barracuda
Guitar Battle vs. Tom Morello*
Rage Against the Machine – Bulls on Parade (rappel avec Tom Morello)
The Strokes – Reptilia* (rappel coop)

Niveau 3: Tourne ton clip

The Killers – When You Were Young*
AFI – Miss Murder*
The Who – The Seeker
Priestess – Lay Down*
The Rolling Stones – Paint It, Black* (rappel)
Red Hot Chili Peppers – Suck My Kiss* (rappel coop)

Niveau 4: À la conquête de l'Europe

Black Sabbath – Paranoid*
Sex Pistols – Anarchy in the U.K.* (ré-enregistrée)
Sonic Youth – Kool Thing*
Weezer – My Name Is Jonas*
Pearl Jam – Even Flow* (rappel)
Blue Öyster Cult – Cities on Flame With Rock 'n' Roll (rappel coop)

Niveau 5: Le blues du bagne

Dead Kennedys – Holiday in Cambodia
Scorpions – Rock You Like a Hurricane
Aerosmith – Same Old Song and Dance*
ZZ Top – La Grange
Guitar Battle vs. Slash*
Guns N' Roses – Welcome to the Jungle* (rappel avec Slash)
Bloc Party – Helicopter* (rappel coop)

Niveau 6: Plus cool, tu meurs !

Santana – Black Magic Woman
The Smashing Pumpkins – Cherub Rock*
White Zombie – Black Sunshine
Tenacious D – The Metal*
Stevie Ray Vaughan – Pride and Joy (rappel)
Matchbook Romance – Monsters* (rappel coop)3

Niveau 7: Un live au Japon

Slipknot – Before I Forget*
Disturbed – Stricken*
Queens of the Stone Age – 3's & 7's*
Muse – Knights of Cydonia*
Living Colour – Cult of Personality* (rappel ; ré-enregistrée)

Niveau 8: Sauve ton âme

Slayer – Raining Blood*
Eric Johnson – Cliffs of Dover
Iron Maiden – The Number of the Beast*
Metallica – One*
Steve Ouimette – The Devil Went Down to Georgia*

Pistes bonus

Toutes les pistes bonus proviennent des enregistrements originaux, sauf She Bangs the Drums de Stone Roses.

Héroes del Silencio – Avalancha
Gallows – In the Belly of a Shark
Senses Fail – Can't Be Saved
Lacuna Coil – Closer
The Sleeping – Don't Hold Back
L.A. Slum Lords – Down 'N Dirty
The Fall of Troy – F.C.P.R.E.M.I.X.
Revolverheld – Generation Rock
Bret Michaels Band – Go That Far
Die Toten Hosen – Hier Kommt Alex
The Hellacopters – I'm in the Band
An Endless Sporadic – Impulse
Scouts of St. Sebastian – In Love
Naast – Mauvais garçon
Lions – Metal Heavy Lady
Backyard Babies – Minus Celsius
Killswitch Engage – My Curse
Dope – Nothing for Me Here
Rise Against – Prayer of the Refugee
Superbus – Radio Song
Kaiser Chiefs – Ruby
The Stone Roses – She Bangs the Drums
In Flames – Take This Life
Prototype – The Way It Ends
DragonForce – Through the Fire and Flames
Visionnez la publicité avec Slash en cliquant ici

L'affaire qui a suivi le jeu: Axl Rose vs Activision

Axl Rose détenant les droits du groupe Guns N' Roses a attaqué en justice Activision prétextant que la société de distribution de jeux videos n'a pas respecté son contrat.
En effet, Axl avait donné son accord pour qu'une musique de Guns n' Roses soit incluse dans la playlist mais ne voulait absolument pas que Slash soit associé à Guns N' Roses car il ne fait plus partie du groupe.
Malheureusement, l'image de Slash se trouve sur la pochette du jeu et il est modalisé partout dans le jeu (il est même jouable).
L'affaire suit son court.