Poker

Depuis l'explosion de la mode du Poker, beaucoup de monde se sont mis à jouer en ligne ou entres amis.
Slash en fait partie.
Il adore jouer avec son cercle d'amis.
Sa femme Perla, a d'ailleurs fait construire une table de poker custimisée avec le logo de Slash au milieu.

Les soirées animées chez les Hudson se passent au sous sol de la maison.

Slash a participé au tournoi de Poker de Kelly Rowland (Destiny's Child) le 9 Janvier 2010 aux Bahamas avec Boris Becker, et le rappeur Nelly entre autres.

Il ne brille malheureusement pas par son talent dans ce domaine !


Flipper
En 1994, alors que Guns n' Roses est au point mort, Slash est approché pour designer avec la société DATA EAST, le pinball Guns N' Roses !

En voici les caractéristiques:

Date de sortie: Juillet 1994
Nombre de joueurs: 4
Constructeur: Data East Pinball, Incorporated (1986-1994)
Abbreviations: GnR
MPU: DataEast/Sega Version 3
Type: Solid State Electronic
Production: 3,000 unités environ
Theme: Celebrities - Licensed - Music
Specialité: Widebody
Dessiné par: Joe Kaminkow, John Borg, Lyman F. Sheats Jr., Slash
Art par: Markus Rothkranz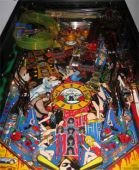 Dots/Animation par: Kurt Andersen, Jack Liddon, Scott Melchionda
Musique: Axl Rose, Slash, Gilby Clarke, Brian Schmidt
Sons: Brian Schmidt
Software: Lonnie D. Ropp, Orin Day, Lyman F. Sheats Jr.
Notes: D'après Brian Schmidt, la chanson "Ain't Going Down" peut seulement être entendue sur ce flipper.
Listes des morceaux présents: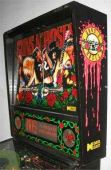 Sweet Child O' mine
Paradise City
Welcome To the Jungle
Nightrain
My Michelle
It's so easy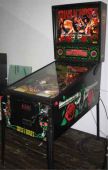 Patience
Garden of Eden
Ain't Goin' Down


Slash parle de cette machine dans une petite interview ici et ici
Il a d'ailleurs écrit les paroles de "Be The Ball" à cette période.
Ci-dessous les règles du jeu !

En 2015, il a alors chez lui 4 flippers:
- Creatures du Lagon Bleu
- La Famille Adams
- Jurassic park
- The Walking Dead (Special edition)

Il a ses autres flippers stockés dans un entrepot.