Toutes les infos et
dates de tournée
Concert précédent || Concert suivant
Date: Vendredi 07 Septembre 2012
Ville - Pays: Austin, TX - Etats-Unis
Salle: Stubb's
Setlist:
Nightrain
Ghost
Standing in the Sun
Back From Cali
Mr Brownstone
Beggars & Hangers-On
Not for Me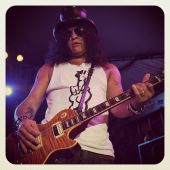 Rocket Queen
Doctor Alibi (Todd Kerns)
Out Ta Get Me (Todd Kerns)
One Last Thrill
No More Heroes
StarlightGuitar Solo / Godfather Theme
Anastasia
Sweet Child O' Mine
You're a Lie
Slither
Fall To Pieces
Paradise City
Affluence: 1400 personnes
Durée: 120 minutes
Première(s) partie(s) : Foxy Shazam, Foxy Dangerous
Cliquez ici pour accéder à la galerie photos du concert de Slash à Austin, TX, Etats-Unis
Infos diverses sur ce concert:
Slash: Finally playing some shows in Texas! Starting in Austin. Then Dallas & Houston. 3 in a row in the Lone Star State. Can't fn' wait! iiii]; )'
I love playing Austin! That was a fn' blast; hot as sin, but so worth it. Band & crowd were totally committed. Cheers folks! iiii]; )'
Myles kennedy: 17 hour bus ride tonight. Not complaining. Back in the day we used to do these long treks in a van.

Todd Kerns: Austin, Texas tonight! One of the great music cities in the USA!