Toutes les infos et
dates de tournée
Concert précédent || Concert suivant
Date: Samedi 08 Septembre 2012
Ville - Pays: Dallas, TX - Etats-Unis
Salle: House of Blues
Setlist:
Halo
Nightrain
Ghost
Standing in the Sun
Back From Cali
Mr Brownstone
Beggars & Hangers-On
Not for Me
Rocket Queen
Doctor Alibi (Todd Kerns)
You're Crazy (Todd Kerns)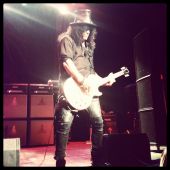 Apocalyptic Love
No More Heroes
Starlight
Guitar Solo / Godfather Theme
Anastasia
Sweet Child O' Mine
You're a Lie
Slither
Fall To Pieces
Paradise City
Affluence: 2000 personnes
Durée: 120 minutes
Première(s) partie(s) : Fozzy Shazam, Midnight Empire
Cliquez ici pour accéder à la galerie photos du concert de Slash à Dallas, TX, Etats-Unis
Infos diverses sur ce concert:
Slash: Just had the pleasure of meeting @robdelaney. Who has a show here in Dallas tonight. We have a show too, otherwise I'd be there. iiii]; )'
Dallas kicked ass! Good times tonight. Loving fn' Texas! Can't wait for Houston. Be there in a matter of hours. iiii]; )'
Todd Kerns: Dallas, Texas! Vinny Paul and the gang are coming to the show tonight. Gonna be a blast!

Midnight Empire a été disqualifié car leur batteur est un des employé de Guitar Center; enseigne qui a organisé un concours visant a faire ouvrir un groupe local sur chaque date de cette tournée américaine.
Le groupe n'a donc pas joué.