Le bassiste de
Slash
,
Todd Kerns
vient d'annoncer la sortie de son
Live Confessional
.
Enregistré le 2 Septembre 2013 dans le club Vamp'd de Las Vegas pour la sortie de son album solo "
Borrowing Trouble
".
Pour fêter l'anniversaire de cet album sorti le 26 Mai 2013, cet album live est le témoignage de ce que donne un show intimiste de
Todd Kerns
épaulé par ses amis comme les
Sin City Sinners
,
Brent Fitz
et
Frank Sidoris
des
Conspirators
.
Mention toute spéciale aux Conspirators qui reprennent "
Staiway To Heaven
" avec
Frank Sidoris
à la guitare lead !
Ce live est
UNIQUEMENT
disponible sur le site
pledge.com
pour seulement 7€. Il n'y aura pas de copies physiques dispo, uniquement du numérique.
Un nouveau concert aura lieu le 26 Mai 2014 au Vamp'd pour célébrer la sortie de ce live.
D'anciens albums de
Todd Kerns
ressortiront prochainement sous le label CaiRIp Record agrémentés de nouveau matériel.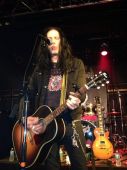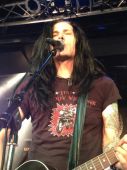 Setlist
Bootleg Confessional : Live in Vegas – Todd Kerns
1. The Devil In Me
2. The Maker/Indian Summer
3. You Can Always Go Home
4. It's Always Been You
5. Hideous
6. Let My Love Open The Door/So Scandalous (with Doc Ellis)
7. Wicked Games (with Doc Ellis)
8. Nothing Personal (with Doc Ellis, Cian Coey and Zachary Throne)
9. This Changes Everything (with Doc Ellis, Cian Coey and Zachary Throne)
10. So Close/So Far
11. The One
12. Heathrow 4am
13. We Are The Champions (with Brent Fitz and Frank Sidoris)
14. Stairway To Heaven (with Brent Fitz and Frank Sidoris)
15. It's Not You It's Me
16. Space Oddity (with Zachary Throne)
Recorded live at Count's Vamp'd in Las Vegas, Nevada on September 2nd 2013

> News sur le concert de Todd Kerns au Vampd
> Achetez le live de Todd Kerns
News lue 22284 fois.