Slash
& les Conspirators ont joué hier en Suède au festival Hultsfred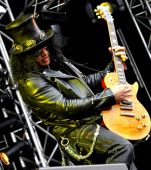 Voici la setlist :
One Last ThrillNightrainGhostStanding in the SunBack From CaliMr. BrownstoneHaloAnastasia
Sweet Child O' Mine
You're A LieSlitherParadise City
>
Galerie Photos Hultsfred
Les vidéos arriveront dans la journée.
Prochain concert après demain en Allemagne au Reload festival.
De nouvelles dates
au Brésil sont tombées. On attend
Slash
en France pour Octobre.
Pour les guitaristes,
Slash
sort une application Amplitube avec son rig perso modelisé.
Mais qu'est ce que c'est que ce charabia me direz vous ?
Et bien, les temps changent, l'époque où l'on se branchait sur un ampli évolue, désormais, on peut même faire de la musique à partir d'un iPhone ou d'un iPad !
Amplitube est à l'origine, une application smartphone vous permettant à l'aide d'un adaptateur
iRig
(35€ en magasin) de brancher sa guitare sur son iPhone / iPad. Cette application offre la possibilité d'enregistrer des sons mais surtout de jouer n'importe où avec votre guitare électrique....
Malheureusement tout cela n'est pas gratuit car il vous en coutera 8€ !
>
Télécharger l'application Amplitube Slash
>
Plus d'infos sur l'application Amplitube Slash
On vous l'annonçait déjà depuis quelques temps, le nouveau single tité de l'album "Apocalyptic Love" sera "Standing in The Sun".
Nous ne savons pas s'il sortira en CD promo, vinyle ou autre pour le moment.
Voici la pochette du single.
>
Commander Apocalyptic Love sur Amazon
>
Toutes les infos sur Apocalyptic Love