APOCALYPTIC LOVE: Day By Day

Nous avons suivi les propos de Slash et des membres du groupe (Todd, Brent et Myles) de la gestation de l'album aux phases de pré-production jusque l'enregistrement et le mixage de l'album. Il est donc possible que certains discours aient légèrement changé entre Juin 2011 et Mai 2012.
Nous vous proposons donc de suivre cette évolution jours après jours.

Ce que l'on sait à l'heure actuelle
Slash: This next record will be a shagalong record - Ce prochain album sera un album sur lequel on pourra faire l'amour.

Todd Kerns (bassiste) : I so wish I could tell you song titles etc but I'm sworn to secrecy. Just let it be said that it is awesome. Simply awesome. This album is going to be a MONSTER. I can't wait for you to hear it.

Le nouvel album de Slash a été composé sur la route avec le groupe de tournée 2010 (Myles Kennedy, Bobby Schneck, Todd Kerns, Brent Fitz) durant la tournée qui a suivi la sortie de l'album Slash.


Les chansons ont pris forme durant les soundchecks et les jams en tout genre.
Cette fois, ce sera Myles Kennedy l'unique chanteur du cd (il chante sur Starlight et Back From Cali sur le précédent album).
La section rythmique sera assurée par:
Todd Kerns: basse
Brent Fitz: batterie

Production, enregistrement, mixage et mastering: Eric Valentine (comme le précédent album)
Pre-production raw mixes: Chris Flores
Studio d'enregistrement: Barefoot Studios comme le 1er album de Slash.
L'enregistrement se fera en analogique comme le premier album !

Le nouvel album sortira au printemps 2012, certainement en Mars/Avril.

Dès la fin de la tournée en Amérique Latine en Avril, Slash a commencé à bosser sur la pré-production du nouvel album.
Myles Kennedy étant en tournée avec Alter Bridge, ils s'envoient régulièrement des fichiers.
Todd Kerns et Brent Fitz prêtent main forte à Slash le 14 Juin 2011 sur des sessions de pré-production de l'album.
Slash affirme même que le groupe pourrait jouer quelques nouvelles chansons pendant la tournée européenne 2011.
Il reprendra en Septembre son travail sur l'album après la tournée et son job de producteur de film d'horreur (1er tournage en Aout).

Répétitions de pré prod du 1er Aout 2011 au 10 Aout 2011 au Studios Mates, Los Angeles.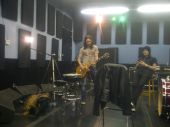 Slash le 16 Septembre 2011:
"We actually haven't started recording, but we've been in pre-production. We're about nine songs in, as far as that goes. And when I get back from England tomorrow, we'll go in and do another 12 songs. And we start actually recording late October. This is a record with Myles [Kennedy of ALTER BRIDGE] singing in the entire thing. And also Brent Fitz's playing drums and Todd Kerns is playing bass."

Début d'enregistrement: 07/10/2011.

Le groupe a travaillé déjà 9 chansons en pré production et compte bien en travailler 12 autres.
Le 2 Octobre 2011: Chris Flores mixe les premiers enregistrements démo du prochain album.
14 chansons démos déjà mises en boite, plus que 3 !

Le 07 Octobre 2011: Début d'enregistrement aux Barefoot studios de L.A

Le 11 Octobre 2011: Enregistrement de premières parties vocales par Myles Kennedy.

Myles pourrait jouer quelques parties de guitares.
Slash utilise une Gibson Flying V '67 Reissue sur une des chansons.

La plupart des chansons sont jouées sur des intruments accordés 1/2 en dessous (Eb, l'accordage habituel de Slash) sauf une en drop D (donc en C#).
Le 13 Octobre 2011: Todd et Myles enregistrent les harmonies vocales.