Autre concert en première partie d'
AEROSMITH
pour
Slash
et les
Conspirators
hier soir à Newark dans le New Jersey.
Tous les détails ci-dessous !
Slash
a encore jammé sur "
Mama Kin
" avec
AEROSMITH
. Ce n'est finalement arrivé que 2 ou 3 fois sur cette tournée commune.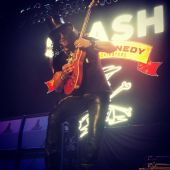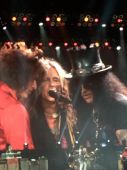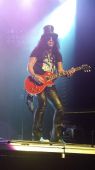 Setlist
You're A lieNightrainHaloBack From CaliYou Could Be MineWorld On FireAnastasiaBrownstoneSweet Child o' MineSlitherParadise City
>
Plus de photos de Slash à Newark
Prochain concert en tête d'affiche demain soir à Mashantucket.
Le Webisode numéro 6 #AskSlash&Myles est sorti hier (avec un peu de retard) à propos des chansons préférées de
Slash & Myles
sur "
World On Fire
".
Pour
Slash
: "
The Unholy
" parceque c'est une chanson complètement différente qu'il pourrait écrire pour un film d'horreur avec des ambiances dark et des paroles vraiment différentes.
Pour
Myles
: "
30 Years to Life", "Battleground", "Beneath The Savage Sun", "The Unholy"
.
>
Toutes les infos sur World On Fire
N'oubliez pas de prendre vos tickets pour voir
Slash
en concert France cette année le 13 Novembre au zénith (le 12 Novembre étant déjà complet).
>
Ticketnet
Pré-commander "
World On Fire
" sur Amazon, il sort le 15 Septembre:
>
Format CD
>
Format vinyle