Slash & Myles Kennedy
poursuivent leur périple à travers les Etats Unis pour la promotion du nouvel album "Apocalyptic Love" jouant dans des salles de tailles moyenne. Hier ils étaient à Atlantic City.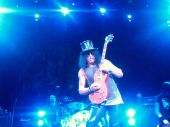 Setlist
Halo
Nightrain
Ghost
Standing in the Sun
Back From Cali
Just Like Anything
Civil War
Rocket Queen
Not For Me
We're All Gonna Die (Todd Kerns)You're Crazy (Todd Kerns)
Hard & Fast
No More Heroes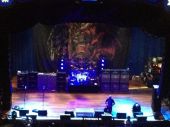 Starlight
Guitar Solo / Godfather Theme
Anastasia
Sweet Child O' Mine
You're a Lie
Slither
Fall To Pieces
Paradise City
>
Galerie photos Atlantic City
Je vous rappelle que le concert de
Slash au Zénith de Paris
est désormais complet.
>
Evénement Facebook Slash France Zénith 2012
>
Toutes les infos sur le concert du zénith 2012
>
Tous les passages de Slash en France
L'autobiographie de
Duff McKagan
(ex bassiste des Guns) disponible en français
Nos fervants lecteurs savent que nous avions évoqué le second semestre 2012 pour la sortie en français du bouquin, voilà qui est désormais fait !
Le livre est paru le 14 Septembre 2012 chez Camion blanc
>
Commander l'autobiographie de Duff McKagan en français
>
Acheter l'autobiographie de Slash (en français)
>
Acheter l'autobiographie de Slash (en anglais)
>
Pré-commander Slash: An intimate portrait sur Amazon
En ce moment sur le site
moshcam.com
, vous pouvez mater les 2h de concert de
Slash
shooté à Sydney le 25 Aout 2012.
Il y a en bonus une longue interview de
Slash
et de son guitar tech.
Slash
y exprime son souhait de continuer l'aventure avec
Myles Kennedy
et enregistrer un 3ème album pour fin 2013 au courant 2014.
Dans
une autre récente interview
,
Slash
parle de la tournée en 2013 avec un passage en Inde, puis en Asie, en Europe et peut être aux USA à nouveau en Mai.
Il rajoute qu'il ne jouera pas de chansons composées par
Axl Rose
(type "November Rain") et qu'il préfère prendre des chansons d'
Appetite for Destruction
, lorsque le groupe envoyait vraiment du bois.
Enfin, dans la dernière mise à jour du blog du bassiste
Todd Kerns
, on y apprend que
Slash
prévoit de rajouter la chanson "
Bad Rain
" à la setlist en Europe.