Review in english
Slash "Made In Stoke"- 24/07/2011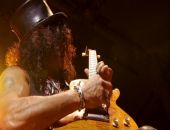 We got the opportunity to "pre-view" the first
Slash
solo DVD "Made In Stoke".
This DVD means a lot to us because, we've been to Stoke to attend this show last summer.
The DVD we watched was a promo stuff so there was no menu or bonus added, just the show. But we know that there will have 3 bonus in the regular DVD edition.
Stoke On trent, UK. The well-known city where rockers like Lemmy or
Slash
and the popstar Robbie Williams were born.
Last summer,
Slash
returns to Stoke, his childhood city, to play a sold out gig. So, there was no doubt, the live DVD from the "We're All Gonna Die" Tour will be recorded there, in the Victoria Hall, a small 1500 people venue. Fans joined the city with force because the show was sold out in less than one hour.
It was in front of true fans the top-hatted guitarist started the show with "Been There lately".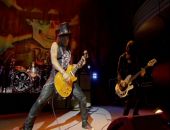 From the very first to the very last song, we can feel again perfectly, the ambiance, the energy, the joyful audience and the big guitar sound (mixed by
Eric Valentine
) we heard there.
The performance from the band was really representative from the Tour.
Bobby Schneck
, discreet rythm guitarist but reliable,
Todd Kerns
hot and giant bassist from hell on backing vocals, and
Brent Fitz
hammered his drumkit like no one.
Myles Kennedy
was doing a great job on vocals, singing songs from Guns n' Roses to Velvet Revolver from Snakepit to
Slash
solo record.
The lead guitarist has done a great performance too, coming back & forth from sides of the stage, jumping around, sweating under his top hat.
On a guitar point of view, as far as I remembered, there was no mistakes done, so I think the DVD was no overdubs added. The performance was really good.
I gotta say, the image we got from
Slash
drunk, walking like a zombie from the Guns era is now far away because
Slash
is sober, alive and kicking and can ensure a show like a pro.
The audience is on fire when
Slash
starts playing anything from
Guns n' Roses
and he gives all he got to the audience.
In 2011, the Godfather can really play again and it works well !
What a fuckin' hapiness to be abble to watch a
Slash
video with pure 16:9 image and dolby 5.1 sound.
An absolute MUST-HAVE for
Slash
and
Guns n' Roses
Fans. A MUST-SEE for guitar freaks and Rock fans
Review by Slash2baz - @Slash France 11/02/2011