Année 1990
BOB DYLAN
Album: "Under the Red Sky"
Titre: Wiggle Wiggle

Wiggle Wiggle / Under the Red Sky / Unbelievable / Born in Time / T.V. Talkin' Song / 10,000 Men / 2 X 2 / God Knows / Handy Dandy / Cat's in the Well
Ecoutez un extrait de "Wiggle Wiggle" ici
IGGY POP
Album: "Brick by Brick"
Titres: Home, Butt Town, Pussy Power, My Baby Wants To Rock N' Roll
Home / Main Street Eyes / I Won't Crap Out / Candy / Butt Town / The Undefeated / Moonlight Lady / Something Wild / Neon Forest / Starry Night / Pussy Power / My Baby Wants to Rock and Roll / Brick by Brick / Livin' on the Edge of the Night

Ecoutez l'album sur Deezer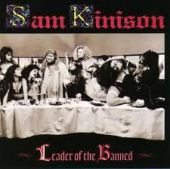 SAM KINISON
Album: "Leader of the Banned"
Titre: Highway To Hell
Detox This - Shopping for Pets - Sex, Videotape and Zoo Animals - Jerry's Bastard Kid - Lenny Bruce's Mom - Casual Users of Terrorism - Old People Must Die - Grilled Cheese Sandwich - Phone Call from Hell / Gonna Raise Hell / Mississippi Queen / Under My Thumb / Highway to Hell
Slash joue de la lead guitar sur cette reprise d'AC/DC.


Année 1991
LENNY KRAVITZ
Album: "Mama said"
Titres: Always On The Run, Fields Of Joy
Fields Of Joy / Always On The Run / Stand By My Woman / It Ain't Over 'Til It's Over / More Than Anything In This World / What Goes Around Comes Around / The Difference Is Why / Stop Draggin' Around / Flowers For Zoë / Fields Of Joy (Reprise) / All I Ever Wanted / When The Morning Turns To Night / What The Fuck Are We Saying / Butterfly
Slash part à New York enregistrer avec son veiux pote de lycée; il pose un solo anthologique sur "fields of Joy" et fait groover le morceau "Always on The Run" avec sa rythmique d'enfer !
Ecoutez l'album sur Deezer
ALICE COOPER
Album: "Hey Stoopid"
Titre: Hey Stoopid
Hey Stoopid / Love's a Loaded Gun / Snakebite / Burning Our Bed / Dangerous Tonight / Might As Well Be on Mars / Feed My Frankenstein / Hurricane Years / Little by Little / Die for You / Dirty Dreams / Wind-Up Toy
2ème participation de Slash avec Alice Cooper.
Ecoutez le titre sur Deezer
MICHAEL JACKSON
Album: "Dangerous"
Titres: Give In to Me, Black or White (intro)
Jam / Why You Wanna Trip On Me / In The Closet / She Drives Me Wild / Remember The Time / Can't Let Her Get Away / Heal The World / Black Or White / Who Is It / Give In To Me / Will You Be There / Keep The Faith /Gone Too Soon / Dangerous
Première collaboration de Slash avec le King Of Pop Michael Jackson. Gilby Clarke, Teddy Andreadis, Muzz Skillings (Living Colour) et Slash forme le groupe qui accompagne le groupe de Michael Jackson dans le clip de Give In To Me.
Visualisez le clip ici ; Ecoutez l'album sur Deezer.
Prestations de Slash avec Michael Jackson période "Dangerous":
- "Black Or White" MTV 10th Anniversary
- "Black Or White" Tokyo '92
- "Black Or White" Oviedo '92