slash.gnrfrance.net >
Concerts en France
TOUS LES CONCERTS DE SLASH EN SOLO EN FRANCE (2014-2016)
HELLFEST 2015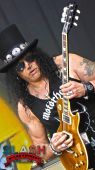 Lieu: Hellfest, Clisson, France
Date: 20/06/2015
Audience: 50000 personnes
1ère partie: Airbourne, Ace Frehley, L7, Butcher babies
Prix des places: 89€

Setlist
You're A lie
Nightrain
Avalon
Back From Cali
You Could Be Mine
The Dissident
World On Fire
Anastasia
Sweet Child o' mine
Slither
Paradise City

Slash:"Awesome day at Hellfest today!! Amazing, gigantic crowd! & the 1st time I've seen sunshine in a month! Good fucking times! iiii]; )'"