2013
DJ Chuckie & Betatraxx feat. Slash
Album: aucun
Titre: RockTronica
25/03/2013
Fruit de la collaboration avec le Dj hollandais Chuckie et Betatraxx, Rocktronica est un savant mix entre l'électro et la guitare rock de Slash.
Le titre fût joué live pour la première fois lors du festival Ultra à Miami le 23/03/2013.
Le single a été mis à disposition gratuitement sur internet via Dj Chuckie.


Stephen Wesley
Album: The Road
Titre: Cowgirl
03/04/2013
1.Never Enough / 2.This Time / 3.Feels Good to Me / 4.Just Feel Me and You /
5.Cowgirl (feat. Slash)
/ 6.Take It Away / 7.Coming Over Me / 8.Every Other Time / 9.Dance / 10.What You're Doing / 11.You Call Love
Enregistré en 2009 mais seulement sorti en 2013.
>
Ecoutez le titre
Halestorm
Album: The Strange Case Of… (Deluxe CD)
Titre: "Here's To Us"
16/04/2013 (Single: 07/05/2013)
"Here's To Us" special guest : featuring Slash, Brent Smith, Myles Kennedy, James Michael, Tylor Connolly, David Drainman, & Maria Brink.
1. Love Bites [So Do I] / 2. Mz. Hyde / 3. I Miss The Misery / 4. Freak Like Me / 5. Beautiful With You / 6. In Your Room / 7. Break In / 8. Rock Show / 9. Daughters Of Darkness / 10. You Call Me A Bitch Like It's A Bad Thing / 11. American Boys / 12. Here's To Us / 13. Don't Know How To Stop [Bonus Track] / 14. Private Parts (feat. James Michael of Sixx: A.M.) [Bonus Track] / 15. Hate It When You See Me Cry [Bonus Track] / 16. Here's To Us [Guest Version]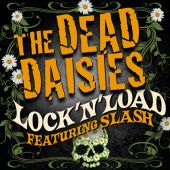 The Dead Daisies feat. Slash
Album: The Dead Daisies
Titre: Lock 'N' Load
19/04/2013

The Dead Daisies est un groupe dont le leader est Jon Stevens, ancien chanteur d'INXS.
A noter que le guitariste lead du groupe est Richard Fortus qui est aussi connu pour être un des 3 guitaristes actuels de Guns n' Roses.

Seul Slash joue sur ce titre. Richard Fortus n'apparait pas sur le titre.
Clip Officiel


Artful Badger & Friends
Album: aucun
Titre: Badger Swagger
04/06/2013

Brian May, Sir David Attenborough, Slash (Guns N Roses) , Shara Nelson (Massive Attack), Sam & The Womp, Sonny Green & Kerry Ellis ont écrit un titre pour lutter contre l'extermination des blaireaux en Angleterre.
Road Recovery - Type II
Album: 15th Anniversary Fundraising goal
Titre: Crimson Chaos, Here we Go
31/10/2013

Slash collabora avec l'association Road Recovery et joue sur un titre avec le groupe TYPE II composé de jeunes de la fondation.
Il vous faut pledger $30 pour accéder au titre (comprendre payer $30 sur le site participatif pledgemusic.com). La somme sert à financer un programme pour aider un jeune à lutter contre ses addictions.