ROD JACKSON & PRIDE HUTCHISON interviews
par www.slashfrance.net
Juillet 2013

Cela fait plus d'une décade qu'on n'a plus de nouvelles de l'ex vocaliste de Snakepit Rod jackson. Nous avons donc décider de briser le silence en le contactant. Il s'est gentiment prêté au jeu et nous parle de son projet actuel, de son passé dans Snakepit et de ses projets à venir. Son batteur, producteur, co-auteur, ami et fondateur du label Explosive Records, Pride Hutchison s'est joint à l'interview. Back to the moment !

ROD JACKSON


1/ Salut Rod, comment vas tu ? Ca fait longtemps que nous n'avons plus de nouvelles de ta part, peux tu expliquer à tes fans ce que tu as fait depuis Snakepit ?
Je bossais sur un album solo et grandissait en tant que musicien. Ca a juste pris du temps à venir.

2/ Peux tu présenter ton nouveau groupe ?
Mon nouveau groupe s'appelle Shady Tree fond√© avec mon batteur,producteur et co-auteur Pride Hutchinson.Ce que j'aime avec Shady Tree c'est nos chansons et notre musique...et le fait que tout le monde joue un r√īle tr√®s actif dans toute la partie cr√©ative.
Pride Hutchison (Drums)
Gary Neal (Basse)
Bill 'ÄúStumuk'ÄĚ Nugent (Cuivres)
Lamar 'ÄúKronik'ÄĚ Mitchell (Keyboards)
C'était vraiment cool que Pride ait eut la possibilité de bosser avec le légendaire producteur Andy Johns (avant qu'il ne décède - NdSF: il est mort mi Juin) et Andy a commencé a travailler avec Pride sur certain artistes du label Explosive Records y compris 2 chansons de Shady Tree disponibles sur iTunes. Pride a appris quelques techniques d'enregistrement vraiment cools lorsqu'il enregistrait avec d'Andy donc on se repenche dessus et on en remix 2 d'entre elles en ce moment.

3) Quand vas tu sortir des nouvelles chansons, un nouveau CD ?
J'ai deux singles qui viennent juste de sortir...et ils dépotent ! "Diamond" et "Better Half", allez les écouter ! Et on espère sortir l'album en Septembre. Vous pouvez télécharqer les chansons sur iTunes.


4) Quels ont été les meilleurs moments que tu as passé avec Slash's Snakepit ? Un anecdote particulière à nous raconter ?
Il y a quelque chose que tu fais à la fin d'un show lorsque tout le monde est à l'arrière du tour bus balance leurs drogues sur la table et le soleil commence juste à se pointer. j'ouvre alors la fenêtre du bus et j'apprécie l'air chaud qui me frappe. C'est le meilleur moyen pour se sentir en vie.

5) Malheureusement, la tournée "Ain't Live Grand" n'est pas passé par la France mais es tu déjà venu ici ?
Oui... j'ai adoré ! Je peux comprendre pourquoi les Jazzmen ne voulaient pas en partir !

6) Te souviens tu pourquoi Slash a arrêté Snakepit ?
Sa petite amie était enceinte. (NdSF: il parle de Perla)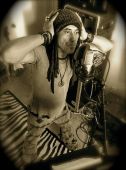 7) As tu écouté les projets solos de Slash dernièrement ? Conspirators et Velvet Revolver ? si oui, qu'en as tu pensé ?
Je n'ai pas écouté une seule musique de Slash depuis Snakepit.

8) Des plans de tournée pour Shady Tree ?
Oui absolument, ca ne devrait pas tarder à venir.

9) Es tu fan de nouvelles technologies ? Que penses tu de Facebook et Twitter ?
Je pense que c'est bien...je pense que c'est mal...bien de faire parler de toi et de rencontrer des gens et d'intéragir avec eux. Mauvais parceque n'importe quel malade peut interagir avec toi.10) Quel genre de musique tu écoutes ces jours ci ?
J'écoute pas mal de vieux funk, du rock des 70's, "Black and Blue" des Rolling Stones et quelques trucs nouveaux comme Zero 7.

11) Nous savons que tu as bossé avec Big Swede (producteur de musique de série) sur certain projet avec Johnny Griparic (Bassiste du Snakepit sur l'album "Ain"t Life Grand"), tu pourrais nous en dire plus ?
J'ai travaillé avec Big Swede et Refurbished, c'est très Hard Rock ! Johnny Griparic y a participé aussi, entre autre.

12) Un dernier mot pour tes fans français ?
"viva la France" !

Rod Jackson
Shady Tree on Facebook
Shady Tree on Reverbnation
Shady Tree on iTunes
Shady Tree on Cd Baby

>>> Interview Pride Hutchison>>>