INTERVIEW DE SLASH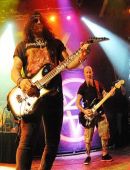 par Slash France
29/03/2013

1/ Nous savons qu'il a des rush des sessions "Apocalyptic Love": Eric Valentine (producteur) mentionne la chanson "Hold The line" et la décrit comme une de ses préférées sur l'album. Peux tu nous en dire plus ?
Hold The Line ? (réflexion...) Je suis quasi sur que c'est en fait le titre de travail de la chanson "Crazy Life"!

2/ Il y a pas mal de guitares sur l'album "Apocalyptic Love", as tu déjà pensé sortir un songbook, les fans apprécieraient ?
La raison pour laquelle je n'ai pas sorti de songbook c'est parceque tout est dispo en ligne. Internet met les songbooks et ce genre de trucs Ă  la rue.
3/ As tu lu les autobiographies de Duff ou Steven Adler ? si oui qu'en as tu pensé ?
Je n'ai lu aucun de leurs bouquins. Je les connais, pourquoi devrais je lire leur bouquin ? Ca s'apparenterait à du harcèlement.

4/ Quand as tu vu Izzy Stradlin' pour la dernière fois ?
La dernière fois que je l'ai vu c'était lorsqu'il est venu pour enregistrer "Ghost". J'ai été sur la route depuis mais on s'envoie souvent des sms.
5/ Es tu influencé par des groupes récents lorsque tu composes ?
J'écoute de tout, des vieux et des nouveaux trucs. Si je tombe sur quelque chose de frais qui m'inspire, ça me fera penser à de nouvelles idées.
6/ Avec quel matériel as tu enregistré le thème Angry Birds, est ce que c'est tout seul dans ta chambre d'hôtel avec ton iPad + Amplitube parceque ça sonne pas comme une démo !
J'ai enregistré Angry Birds tout seul dans ma chambre d'hôtel sur mon ordi avec l'app Amplitube.
7/ Nous savons que tu aimes des groupes de Metal comme GOJIRA ou MACHINE HEAD mais que penses tu des groupes de Rock comme MUSE ?
Il y a pas mal de bons trucs sur le dernier cd de MUSE. C'est avec ce dernier album que je me suis vraiment intéressé à eux pour la première fois. J'aime bien ce qu'ils font.
8/ Tu bosses sur le nouvel album des Conspirators, aura t on droit a des riffs et des chansons Ă©piques comme "Anastasia" ?
Tu ne penses jamais au précédent album quand tu fais le suivant sauf pour te dire de ne pas refaire la même chose !
9/ Pas sur que tu révéleras quelque chose à propos de la nouvelle Gibson "AFD" Red ou de nouvelles choses avec Marshall, mais nous demandons malgré tout !
On travaille sur les spécificités de la nouvelle Gibson Red "Inspired by". Rien de prévu par contre avec Marshall, on discute juste de nouvelles idées.
10/ Dernière question à propos du film "Nothing Left To Fear", aura t on la chance de voir sortir la bande original en cd ?
Il y aura bien une bande originale. Mis à part le thème principal, il n'y a pas beaucoup de guitares dans la b.o mais j'en ai co-écrit la plus part.
Nous sommes sur le point d'atteindre les 70 000 fans sur la page Facebook de www.slashfrance.net et ta communauté française de fans grossit de jours en jours, as tu quelque chose à ajouter pour eux ?
70 000 ?! Dis leur à chacun d'entre eux que j'apprécie (nous apprécions) le soutien. Plus qu'ils ne peuvent l'imaginer et que j'ai hâte de sortir un nouvel album l'année prochaine.
Merci de nous avoir accordé un peu de ton temps Slash, A+ !
Pas de soucis, A+ !
Interview réalisée pour www.slashfrance.net via internet les 27 et 28 Mars 2013.
Traduction par Slash2baz - Merci de ne pas utiliser sans autorisation.
> Version originale