Slash
Questions / RĂ©ponses
DĂ©cembre 2011
Par Slash Army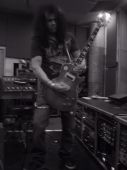 1) Y a-t-il une partie du monde dans laquelle tu n'as jamais joué et où tu aimerais donner des concerts ?
L'Inde et L'Afrique du Sud.

2) Si tu étais perdu sur une île déserte et que tu devais choisir 3 CDs à emporter, tu choisirais lesquels ?
BB Kings 2nd Greatest hits, AEROSMITH Rocks, THE ROLLING STONES Let it bleed
3) Est-ce que tu comptes enregistrer une version studio du « Godfather Theme » ?
j'ai déjà enregistré une version studio qui est sur l'album "Kid stays in the pic" donc la réponse est non.
4) J'ai remarqué qu'il y avait toujours un crâne au dessus de tes amplis, y a-t-il une signification particulière à cela ?
C'est juste une petite mascotte qui m'a été donné par un ami cher.

5) Comment décrirais tu le nouvel album en quelques mots ?
De la vrai bonne musique Rock n' Roll.
6) Est-ce que tu dessines toujours ? Si oui, quel genre de trucs tu aimes dessiner ?
Je dessine toujours oui, je dessine pour tout ce que je fais par exemple des pochettes d'albums, des tshirts…
7) Quelle est la meilleure chose dans le fait d'être parent ?
Voir grandir ses enfants.
8) Quelle est ta chanson préférée de Michael Jackson ?
Je ne suis pas sure, il y en a plein que j'aime.
9) Quelle est l'artiste avec qui tu aimerais collaborer le plus dans le futur ?
J'aimerais faire un truc vraiment heavy avec EMINEM
10) A propos d'Art, quel est ton peintre préféré ?
Picasso
11) Est-ce que tu joueras des chansons rares que les fans aimeraient t'entendre jouer comme « Don't Damn me, Coma, Locomotive, You Could be Mine ou Double talkin Jive sur la prochaine tournée ?
On verra
12) Si tu pouvais être un personnage de cinéma, qui ce serait ?
Le Joker interprété par Heath Ledger (Batman Dark Knights)
13) Est ce qu'un jour tu enregistreras une chanson en tant que chanteur ?
Peut ĂŞtre un jour.
14) Parmi les chansons que tu as écrites, quelle est celle que tu préfères ?
J'ai toujours aimé « Lower »
15) Est-ce que tu souhaites toujours te balader dans la rue incognito ?
J'arrive parfois à me balader dans la rue sans me faire remarquer.
[…]
Bon courage pour le nouvel album, nous avons hâte de l'écouter.
Merci, on va faire un break pour Noel après 23 Décembre et on reprendra l'enregistrement à partir du 3 Janvier.


Traduit de l'anglais par Slash2baz pour Slash France
Source: Slash Army Uk