Slash Interview
06/01/2014
First Interview of the year !

Right after Xmas holidays, when everybody is about to go back to work, We decided to contact Slash to ask him some quick questions about the new album. Of course he couldn't answer to everything yet but that's a start ! Enjoy !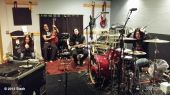 1/
How is pre-production going so far ?
Pre pro has been great. Very collaborative & creative & spontaneous. Very Rock n Roll. We're recapping the next couple of weeks.
2/

Do you have any idea of a tittle and Artwork for the new album ?
No, we haven't got a title yet. Or artwork. But it will come soon.
3/
How does it feel to work with Michael Elvis Baskette ?
Mike has been simply awesome. He gets it. He has had some great ideas. He likes to work with tape and he is super cool individual.
4/
How many songs will be recorded for the album (bonus incl.) ?
I can't answer yet !
5/
Where do you guys will record the album ? L.A, Florida, Vegas or elsewhere ?
Can't answer !
6/
New album release is still planned for late summer or things changed ?
Yes, late summer.
7/
Are you planning to play France and Europe in the Fall or later this year ?
I don't know for sure where the tour starts just yet. I'll know soon when we come to Europe.
8/
One word to your french fans for the new year ?
I'm super excited to do shows in France. & I look forward to seeing all the French die hards there!
Thanks Slash, we can't wait to hear updates and new music from you and the guys!Happy new year!

Interview conducted by www.slashfrance.net via internet on January 5th and 6th. 2014.
Crédits: slashfrance@gmail.com